Rub, Bubbles, N Grub
Lodging in any room or suite featuring a couple-sized spa tub or cedar hot tub (the bubbles...)
Daily scrumptious breakfasts for two (the grub...)
Two one-hour in-suite massages (the rub...)
One dinner for two at Romano's Dodge House, Jeremy's on the Hill or The Julian Grille (value to $55.)
Two night package price: Suite $ 730. Room $ 690.
Roses ?n Romance
Lodging in any of our romantic rooms or suites
Daily scrumptious breakfasts for two
A gift basket in room with roses, chocolates & sparkling cider
Choice of romantic dinner for two at The Julian Grill, Romano's Dodge House or Jeremy's on the Hill (value $55.)
Two night package price: Suite $ 575.
Llama Treks
Distance and duration are approximate. All day treks begin and end at Wikiup Bed and Breakfast in Julian, CA. Reservations are required with 24-hour notice, minimum two persons per trek. Prices are subject to change without notice. Treks are seasonal and subject to cancellation due to weather conditions.
Menghini Winery Llama Treks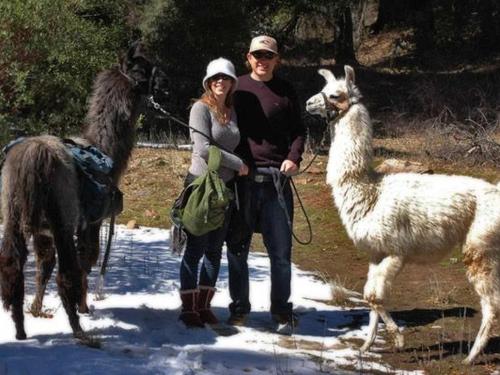 About 4 miles
About 4 hours
$95 for adults, $75 for children (ages 7 to 10)
Difficulty: *Moderate
This overwhelmingly favorite trek trailheads at Wikiup B&B and crosses overland through woods along a seasonal creek bed to a two-lane country road. The scenery changes to open range land and apple orchards. A leisurely hour is spent wine tasting and picnicking in the shade of the winery's own apple trees. Following your selection of a bottle of wine (one per couple), we return to Wikiup via the woods.
Eagle Peak Gold Mine Llama Trek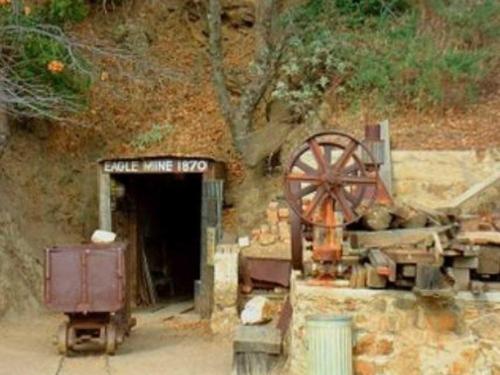 4.5 miles
About 5 hours
$95 for adults, $75 for children (ages 7 to 10)
Difficulty: *Moderate
Kids vote this the most fun trek of all! We follow back country lanes from the Wikiup B&B through rural country neighborhoods lined with oaks and pines to a panoramic view of the Salton Sea, Vulcan Mountain and Julian townsite. The trek continues through the Julian Historical District to the Eagle Peak Gold Mine. After a 45-60 minute tour through the mine and its' grounds enjoy a leisurely picnic. The return trek to the Wikiup continues via rural paved roads.